Vous voulez acheter une propriété?
Faire de votre maison de rêve une réalité
Faire l'achat d'une propriété est une décision importante – que ce soit votre première ou dixième maison! Le processus d'achat d'une propriété compte bien plus d'aspects que la simple recherche en ligne de l'endroit parfait. La clé est de pouvoir recourir à tant à votre coeur qu'à votre tête, et de savoir comment différencier les deux. C'est pourquoi avoir un courtier immobilier chevronné à vos côtés vous aidera à cheminer dans vos décisions.
Se préparer en vue de l'achat
Avant de vous laisser emporter par l'emballement que procure la recherche d'une propriété, posez-vous les questions suivantes :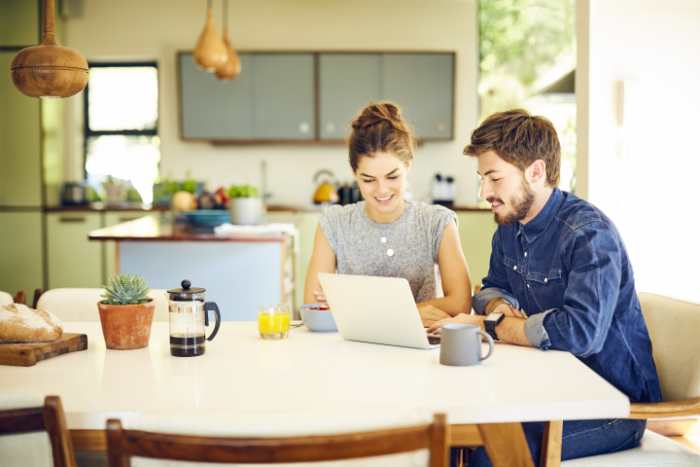 1. Quel montant pouvez-vous investir?
Faites des calculs et déterminez quel est votre budget. Obtenir une préautorisation hypothécaire vous permettra d'entamer la recherche d'une propriété avec une compréhension claire du montant que vous pourriez investir, en plus de vous donner un avantage concurrentiel au moment de négocier une offre.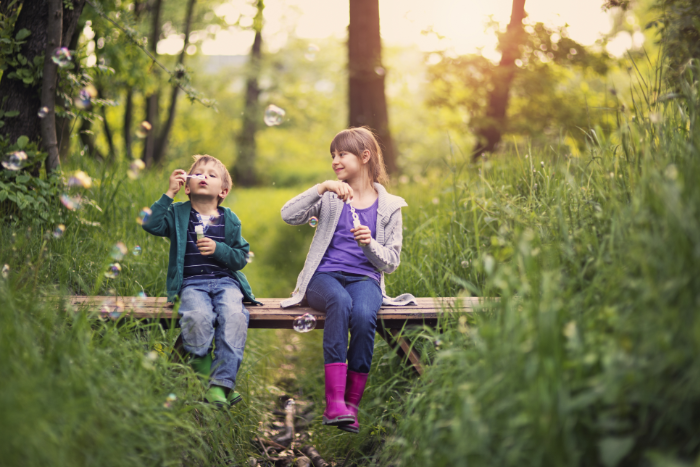 2. Est-ce qu'un quartier en particulier vous intéresse?
Avant de parler de propriétés en soi, pensez au secteur géographique qui conviendrait le mieux à votre style de vie. N'oubliez pas le côté pratique : à quelle distance se trouve la propriété des endroits où je me rends souvent?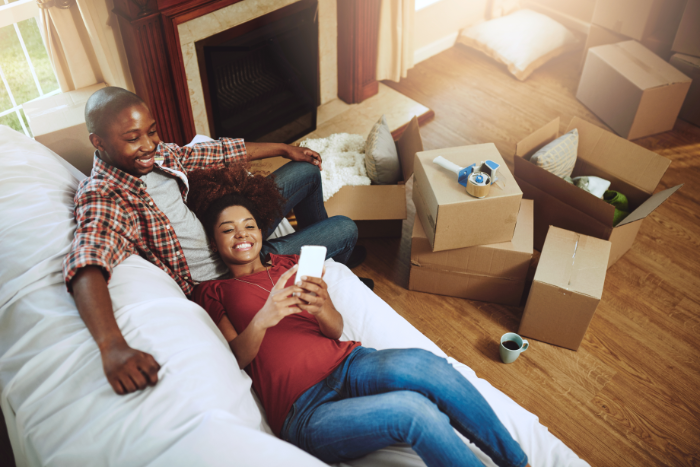 3. Quels sont pour vous les aspects essentiels?
Sortez vos papiers et crayons (ou votre téléphone) et créez une liste en trois sections : les aspects essentiels, les aspects souhaités et les aspects obligatoires. Cela vous aidera à y voir plus clair et vous pourrez vous référer au document lorsque vous comparerez des propriétés.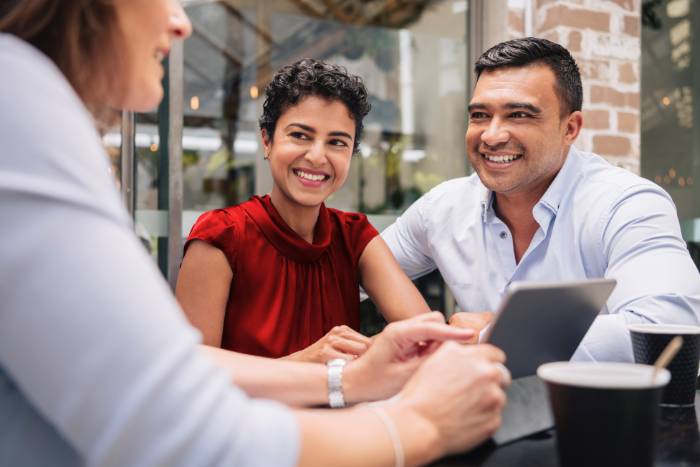 4. Qui fait partie de votre équipe?
Avoir à vos côtés une équipe de professionnels de confiance vous guidant et vous offrant des conseils d'expert vous aidera à prendre la meilleure décision possible pour vos finances et votre futur. C'est pourquoi vous voulez choisir un courtier immobilier qui prend à cœur votre intérêt. Il pourra vous recommander à d'autres professionnels fiables au besoin, par exemple un représentant hypothécaire, un inspecteur en bâtiment ou un avocat.
Pourquoi collaborer avec nous?
Lorsqu'il s'agit d'acheter une maison parfaite, il y a de nombreuses étapes et décisions à suivre. En vous associant à nous, vous pouvez être assuré que nous :
Nous prenons le temps de vous expliquer les options qui s'offrent à vous.
Personnalisez votre recherche pour trouver les propriétés qui vous intéressent le plus.
Demeurer à l'affût des tendances du marché et offrir des conseils professionnels.
Vous mettre en contact avec les professionnels et les ressources qui conviennent à vos besoins.
Nous vous aidons à prendre la décision qui convient le mieux à vos objectifs uniques.
Nous négocions en votre nom et nous nous assurons que vous êtes dans la meilleure posture lorsque vous faites une offre.
Vous êtes prêt à commencer? Communiquez avec nous et parlons de votre rêve de devenir propriétaire.
Testimonials
" My husband and I would like to inform you how very pleased we were with the services rendered by Eleonora Segal during the percent purchase of our house. From the time I set eyes on the advertisement in the newspaper up to the time when the deal closed, we have nothing but praise for Eleonora in the way she handled the whole deal. To being with, the ad in the newspaper was so precise and to the point, that when we actually went to see the house, it was exactly as described by the ad and by her on the phone. Eleonora's qualities of patience, follow-up, ability to handle very calmly stressful situations, and generally a very amicable manner, are the qualities we appreciated the most. Most of all, we have really appreciated her very quick response time, every time we left a message for her to call us. We have also appreciated the response from the management of your office during Eleonora's brief absence while out of town. Thank you once again. "
- Mr. & Mrs. F.E. Khoja
" As first time home buyers, we were very new to the process. Eleonora was exceptional – her patience and consideration coupled with her valuable insight and guidance made our first home buying experience as seamless as we could hope for. She took the time to understand our needs and accommodate our requests and went far beyond her role as a realtor to partner with us to find the home we want. Her incredibly personalized service made her a joy to work with and we almost wish we were buying another home just so we could work with her again! "
- Kellie Smith & Glenn Zujew
" Buying and selling are tremendously stressful, but to go through the process while expecting twins is nothing short of nerve-racking. Without the steady hand of Eleonora Segal guiding us through the sale of our condo and the subsequent purchase of our home, I am not sure what would have happened. She led us through every step of the process with confidence, not only as a world-class realtor, but as a friend who was truly looking out for our well-being. We could not be happier with how things turned out and when the time comes for us to look for another home, Eleonora Segal will be our first and only call. "
- Ben Mulroney (Anchor/Producer, eTalk)
" Mrs Segal is a true professional. She understands the inner working of the marketplace in Toronto and gets to know her clients so as not to show them properties that they wouldn't be interested in. I would and have already recommended Mrs. Segal to many of my friends. "
- Mark Mulroney
" I would like to take a moment of your time and thank you for your help in selling our home in Richmond Hill and the purchase of our new home in Toronto. As we can reflect now, these two transactions were rather complicated. The Richmond Hill market being oversupplied with new and resale homes made our sale almost impossible for a reasonable price. Only through your determination and professional approach were we able to complete the selling transaction at a reasonable price. It took four months of hard work and at no time have we heard any complaints from you. You persevered and worked diligently and as enthusiastically in the first day as in the last day of that period. The Toronto (midtown) market on the other hand is overheated and under supplied. With soaring prices and competitive bidding all around us, the purchase of our new home seemed to be more difficult than anticipated. Thanks to your skillful and energetic approach, combined with sharp negotiating skills we were able to forward our offers and purchase our new home for a very good price and convenient closing. Your hard work resulted in a successful completion of our ordeal. On behalf of my family, I would like to extend my gratitude to you for all the good will and the hard work and the fact that you always maintained your good and positive spirits. Please consider yourself as a welcomed friend in our home. "
- David Meron, P. Eng
" We would like to thank you for the incredible work that you have done for us. From the first meeting with you we got a strong feeling that we are in good hands. During the search for our new house you have shown yourself a very competent professional with a deep knowledge of real estate and of current market trends. We were readiness to show us newly listed homes late at night on weekends. We felt that the most important thing for you was our satisfaction with the house. You definitely worked very hard to achieve that goal. When the problem caused by the seller aroused, you did the maximum in order to save the deal for us. You provided us with all necessary information and contacts to expedite and close the deal. You always put our interests ahead of your own. We are very grateful to you that we finally got the possibility to move into the house. We wish that professionals like you would work in other services that we interact with. Thank you very much! "
- Lev and Dr. Rita Katznelson
Previous
Next